It has been a fantastic week here at Veritas. We have two employees who have passed their final and last exams. Tumelo Mohlala has received his SAIPA qualification and is now a Professional Accountant. Tharien Botha passed here APC and is now a fully qualified Chartered Accountant.
The Veritas' training program is something that is very close to the partners' hearts. Educating, shaping and assisting the future of our profession is a calling for them. At Veritas our staff receive ample study leave, exposure to a variety of clients, sectors and on the job experience.
We believe our success depends on the success of our staff.
Read what they had to say about Veritas, exams and the meaning of their qualifications.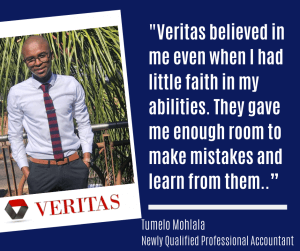 Why did you choose Veritas to complete your training?
I chose Veritas because they value growth, they believe in the potential of their employees and go out of their way to ensure that as an individual you realise your full potential and discover your strengths.
What does it mean to you to have your SAIPA qualification?
My SAIPA qualification means a lot to me. It has unlocked the door for me to be able to showcase my skills and abilities throughout the Finance industry.
How did Veritas help you to complete your training?
They believed in me even when I had little faith in my abilities. They gave me enough room to make mistakes and learn from them. But, most importantly they allowed me to be myself throughout my training contract.
Why did you choose Veritas to complete your training?
Initially I chose Veritas, because I knew that the directors had many years of experience. I knew I would gain valuable knowledge in my article years. It was only when I started working that I realized the various clients that one is exposed to and the exceptional on-the-job training they provide. I am therefore very grateful that I chose Veritas, because now I know it was one of the best decisions I made. I have learned so much.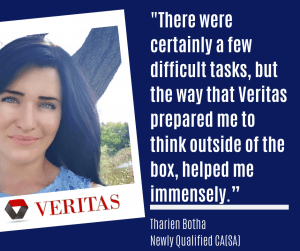 What does it mean to you to be a qualified CA(SA)?
To be honest, at this stage it hasn't sunk in yet. I am still getting used to the idea, but I am very thankful that all the hard work and dedication has paid-off. It's been a tough journey, but I had so much support throughout. Especially from Veritas which made the journey better.
How did Veritas help you to become a CA(SA)?
When I started, I was immediately exposed to so many clients and felt that this assisted me in a great way with my final board exam. There were certainly a few difficult tasks, but the way that Veritas prepared me to think outside of the box, helped me immensely. I also had excellent support from my fellow colleagues and the partners, who always took time to check on me and wish me luck for the exams. Looking back at my decision to move to Veritas, it was certainly one of the best decisions I've made. It enabled me to learn so much more than I ever expected.
Congratulations to both of you. May this be the beginning of a long and prosperous career.